High Vacuum Batch Distillation
MAJOR BEVERAGE COMPANY | SOUTH AMERICA
Problem
Client had production capacity limitations on a batch distillation unit used to separate and purify a high-value product.
History
Market demand for the valuable distillate product had increased to the point that the process needed to increase capacity. The processor was considering installing a new batch still to double capacity.
Solution
ChemPro designed, engineered, and built a modular batch stillpot, incorporating a custom-designed falling film reboiler with proprietary ChemPro internals, a column with high efficiency internals, an ultra low pressure drop condenser, circulation pump, vacuum pump and controls for increased throughput. The unique design was compact and in a vertical format to fit into the tight space available next to an existing unit. The module was built in three sections so it could be rolled into place and stacked inside the building.
Results
The unit has met all process criteria, increased production capacity two-fold, and eliminated the need to add a second unit based on efficiency.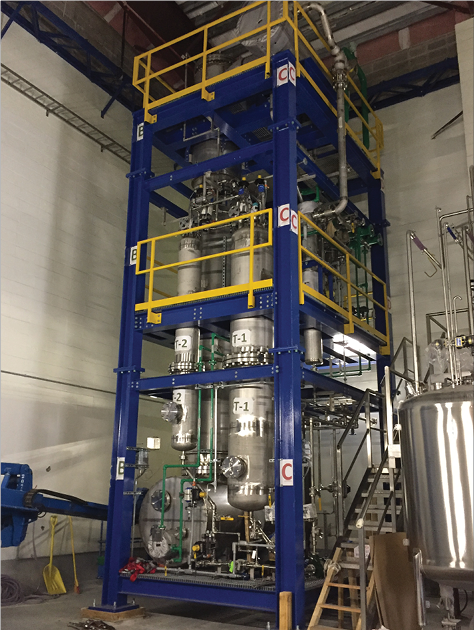 Project Report 264
System
• Modular Distillation System Upgrade
Structural Frame
• Epoxy-coated Steel
Equipment
• Stillpot, 316SS
• Forced Circulation Falling Film Reboiler, 316SS, with high efficiency proprietary internals
• Reboiler Circulation Pump, Sealless, 316SS
Piping
• 316SS
Instrumentation
• 316SS Wetted parts
• Freestanding PLC Control System, including functional specification, programming, shop testing, and operator training