Experience
Project Report
CO2 Capture System
MAJOR ENERGY COMPANY & FEDERAL RESEARCH CENTER | SOUTHEASTERN US
Problem
Client had a need of a pilot unit to screen solvent systems for flue gas CO2 capture using a slip stream in one of their operating power plants.

History
Demand to improve CO2 removal from coal fired energy facilities in the US prompted the client to develop a pilot facility to study various solvents which could be used to remove CO2 in their flue gas outlet. The company needed to add a stand-alone facility at their plant to test solvents and optimize equipment design and operating parameters, in conjunction with a Federal Research Center at the site.

Solution
ChemPro collaborated with the client to understand their R&D needs. The unit needed to be easily adaptable and reconfigurable to handle a wide range of solvents used for CO2 capture from a flue gas slip stream. ChemPro conducted extensive process simulations to ensure the system could handle the varying flue gas stream, perform reliably throughout the anticipated range of operating scenarios, and minimize solvent losses. ChemPro designed, engineered, and McAbee built a modular continuous mass transfer system, incorporating several unique equipment designs to allow the client flexibility to reconfigure the columns, heat exchangers, pumps and blowers easily, to run their test campaigns under wide range of operating conditions and with many differing solvent system properties. The unique design included a complex control system including MCC (motor control center) to ensure it could encompass all of the flexibility which the client needed and respond quickly to upsets while maintaining on spec CO2 removal and minimum solvent losses.
Results
A modular unit was designed by ChemPro, modules were built in McAbee's shop, and the completed plant was erected by McAbee at the client's site. The project was executed within a compressed schedule, was started up quickly, and has met all process criteria, including production capacity and CO2 removal requirements. The client has been able to perform short turnarounds, reconfigure equipment/internals, and start right back up. ChemPro and McAbee continue to provide technical assistance to meet development needs, including a bolt-on additional module to process a proprietary candidate solvent.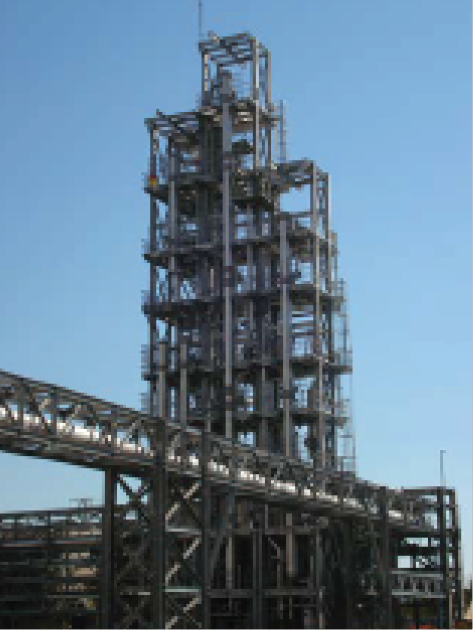 Project Report 248
System
• Modular CO2 Capture System
Structural Frames
• 10 Modules + Staircase
• Galvanized Steel
Equipment
• 5 Columns with Trays and Packing, all reconfigurable in place
• Heat Exchangers (8)
• Tanks (11)
• Filters (7)
• Pumps (16)
• Blower (1)
Piping
• Stainless and Carbon Steel
Instrumentation
• 316SS Wetted Parts
• Functional specification and logic, including Control System with MCC in separate modular building