Low Energy Transmix Distillation
TRANSMIX TERMINAL COMPANY | SOUTHEASTERN US
Problem
Client had a fast track production capacity need to fractionate a gasoline/diesel stream stored in terminal tanks at their location for resale into the market.

History
Local market conditions for processing transmix feeds became available for a terminal facility owner. The company needed to add distillation capacity at their plant to meet the latest market demands.

Solution
The client requested that ChemPro design a low energy continuous distillation system that would separate fuel oil and gasoline into resalable products. The unit needed to improve energy usage and have a 2 to 1 turndown range in capacity.

ChemPro designed, engineered, and built a modular continuous distillation system, incorporating several unique equipment designs to reduce energy usage by 40-50% compared to existing transmix distillation designs. The unique design included a multi-effect heat integration and reclamation step, which can also be a stand alone add-on feature for existing transmix fractionation units.
Results
The unit has met all process criteria and energy usage requirements.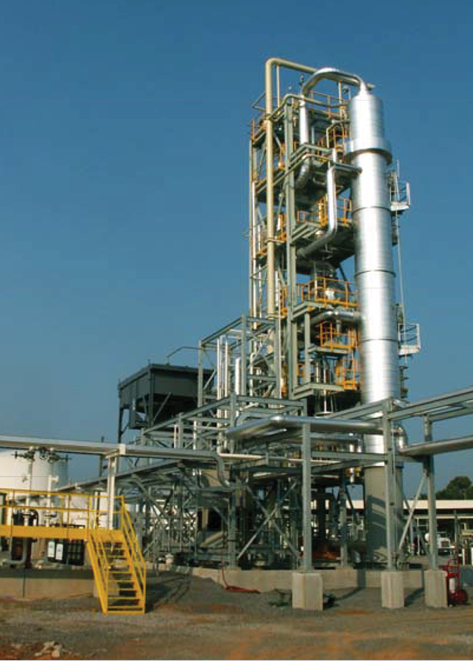 Project Report 235
System
• Modular Distillation System
Structural Frame
• Galvanized Steel
Equipment
• Column with Anti-Fouling Trays
• Multi-Effect Heat Integration
• Overhead Condenser
• Product & Bottoms Coolers
• Reflux Tank
• Reboiler Circulation Pumps - API Sealless
• Reflux Pumps - Sealless
Piping
• Carbon Steel
Instrumentation
• 316SS Wetted Parts
• Functional specification and logic for Control System