Hi-Purity Distillation
MAJOR SPECIALTY CHEMICALS COMPANY | SOUTHEASTERN US
Problem
Client had a production capacity need to purify a monomer stored in railroad tank cars for use in low VOC carpets.

History
Market requirements for a high purity chemical intermediate product which is used in the manufacture of carpet yarn had increased to eliminate the VOC content so companies could market odorless carpets for the latest "Green" trends in home products. The company needed to add monomer distillation capacity at their plant to meet the latest market demands.
Solution
The client requested that ChemPro design a flexible continuous distillation system that would remove the high boiling component in the chemical responsible for the lingering odor in installed carpeting. The unit needed to handle a wide range of feedstock variability. ChemPro conducted extensive process simulations to ensure the system could handle the varying feed, operate reliably throughout the feed range and minimize product losses. ChemPro designed, engineered, and built a modular continuous distillation system, incorporating several unique equipment designs to reduce fouling and polymerization of the product at the operating conditions. The unique design included a complex control scheme to ensure the system could operate over a wide range of feed rates and compositions, respond quickly to upsets while maintaining product purities and energy efficiency.
Results
The unit has met all process criteria, increased production capacity and conforms to the VOC requirements for odorless carpet production.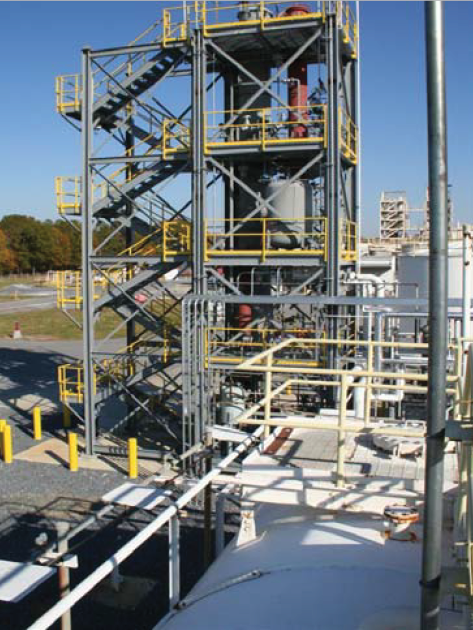 Project Report 228
System
• Modular Distillation System
Structural Frame
• Epoxy-coated Steel
• Stair Module
Equipment
• Column with antifouling trays
• Forced Circulation Reboiler with antifouling features
• Overhead Condenser
• Product & Bottoms Coolers
• Reflux Tank
• Reboiler Circulation Pump
• Reflux Pump
Piping
• Carbon Steel
Instrumentation
• 316SS Wetted Parts
• Functional specification and logic for Control System